Flemington Car & Truck Country is proud to announce that Steve Kalafer, our chairman, is officially being inducted into the 2019-2020 class of the New Jersey Hall of Fame (NJHOF) in the Enterprise category! We want to thank everyone who helped Steve receive this prestigious recognition.
Besides being our chairman, Steve does a lot in our community such as:
Somerset Health Care Foundation Chairman Emeritus
Somerset Patriots Chairman Emeritus
RWJBarnabas Health Board of Directors member
New Jersey Manufacturers Insurance trustee
Co-chair of the Chairman's Council of The Actors Fund of America
Recently retired Joe Torre Safe At Home Foundation trustee
Watch Steve Kalafer's Induction Speech
All winners have been residents of NJ for at least 5 years. It took a few steps for Steve to get his rightful spot in the NJHOF:
The selection committee determined a list of 100 potential nominees based on their own consideration, along with recommendations from NJ residents.
The NJHOF Academy then narrowed down the master list from 100 to 50 potential nominees.
The public voted on the final nominations in June 2020. Nominees getting the most votes in each category would automatically be inducted.
The Board deliberated to determine the other nominees who should be inducted for the 2019-20 class.
Because of these challenging times, the NJHOF induction ceremony will be a 1-hour virtual pre-recorded event taking place on Sunday October 18th, 2020. If you want to see or hear Steve receive his recognition, the event will be broadcasted on a number of TV, radio & social media platforms throughout our state.
Since 2008, the NJHOF has been honoring those New Jerseyans who are deemed as contributing the most to society and the world beyond. In 2013, a Mobile Museum was created to showcase the legacy of these hall of famers and it was recently announced that the Hall of Fame would have a permanent home at the American Dream Meadowlands mall in East Rutherford.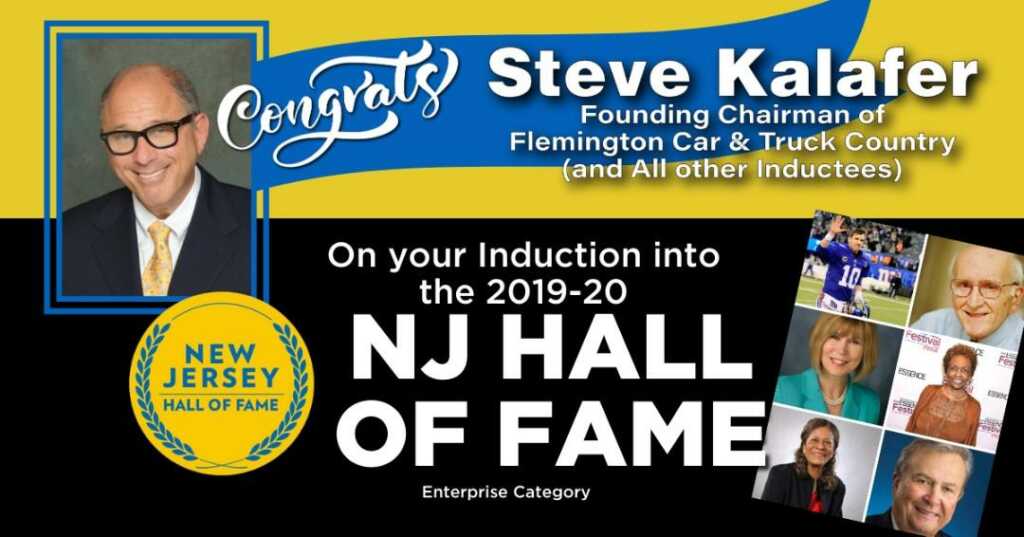 Meet the 2019-20 NJ Hall of Fame Class
There are a total of 5 categories of inductees in this year's NJHOF class. In addition to Steve, there are 4 other inductees to the NJHOF in the Enterprise category. They are:
Col. Fairleigh Dickinson of Rutherford, co-founder of Becton Dickinson & benefactor of the university bearing his name
The Borg Family of Hackensack, former owners & publishers of The Record
Joseph Simunovich of West New York, former Hudson County freeholder director & NJ Turnpike Authority chairman
Linda Bowden of East Brunswick, NJ Chamber of Commerce board chair & PNC Bank regional president
For the Sports category, former NY Giants QB & Super Bowl winner Eli Manning of Summit was inducted along with:
NBA great Rick Barry of Roselle Park
2x boxing heavyweight contender Gerry Cooney of Fanwood
Former Rutgers University athletic directory Robert Mulcahy III of Mendham
Rutgers University women's basketball head coach Vivian Stringer of Piscataway
The Public Services category has 5 inductees in this year's class. They are comprised of:
43rd Governor of New Jersey & Warner-Lambert president Alfred Driscoll of Haddonfield
Noble Prize-winning economist Milton Friedman of Rahway
Former Joint Chiefs of Staff chairman Army Gen. Martin Dempsey of Jersey City
Apgar Score inventor & anesthesiologist Dr. Virginia Apgar of Westfield
Former St. Joseph's Health president & CEO Sister Jane Brady of Paterson
The category with the most NJHOF inductees in this year's class is Arts & Entertainment. The new members are as follows:
Academy & Emmy Award-winning actress Anne Hathaway of Millburn
Grammy Award-winning soul & gospel singer Cissy Houston of Newark, who is the mother of Whitney Houston
Roots & Good Times actor John Amos of Newark
The Adventures of Ozzie and Harriet stars The Nelson Family of Jersey City
Grammy and Emmy Award-winning comedian & actor Flip Wilson of Jersey City
Academy Award-nominated actor Danny Aiello of Ramsey
5x Grammy Award-winning singer-songwriter Mary Chapin Carpenter of Princeton
Award-winning actor Ed Harris of Tenafly
Emmy Award-winning comedian, actor & writer Ernie Kovacs of Trenton
Last but not least, the Arts & Letters category has 5 NJHOF inductees for the 2019-20 class and they are:
Journalist, literary critic and poet Joyce Kilmer of New Brunswick
Cartoonist and The Addams Family creator Charles Addams of Westfield
The Red Badge of Courage author Stephen Crane of Newark
31-year editor of The Star-Ledger Mort Pye of Tewksbury
World-renowned author and public speaker Fran Lebowitz of Morristown