Being a business based in the NYC metropolitan area and proud Americans to boot, we know that the terrorist attacks on September 11th still affect members of our community to this very day. And even 18 years later, we also know that we will never forget.
One member of our family of brands, Flemington Chevrolet Buick GMC Cadillac, donated $30,000 to the Stephen Siller Tunnel to Towers Foundation. General Manager Dave Alesso & General Sales Manager Tony Izzo proudly gave a check to the organization in conjunction with their New York City 5K event.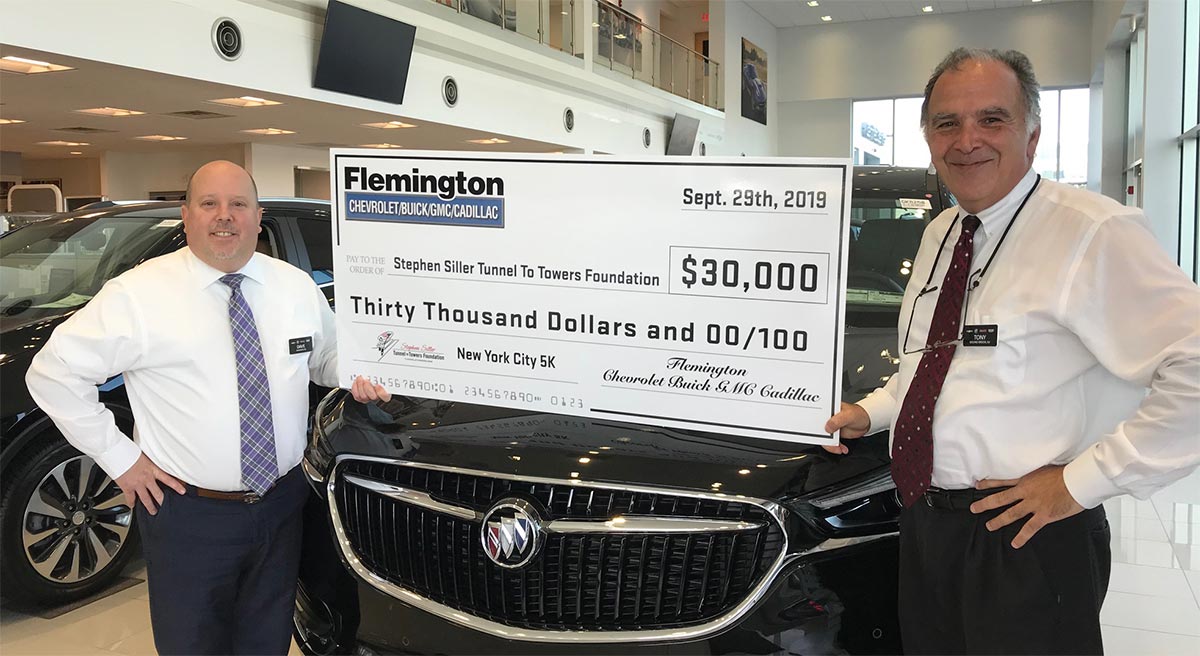 About the Stephen Siller Tunnel to Towers Foundation
Based out of Staten Island NY, the Stephen Siller Tunnel to Towers Foundation is a tax-exempt 501(c)(3) nonprofit that's named after a firefighter who gave his life to save the lives of others on 9/11. They also work to honor the members of our military and first responders who sacrifice life & limb for our country.
Every year, they hold the Tunnel to Towers 5K Run & Walk on the last Sunday in September in New York City to support their programs. The route taken on this 5K is identical to Siller's final footsteps that he took from the Hugh L. Carey Tunnel (then the Brooklyn Battery Tunnel) to the Twin Towers site on September 11, 2001.
The Stephen Siller Tunnel to Towers Foundation provides several programs that benefit first responders & military service members who have been catastrophically injured. Among them are:
Smart Home Program that builds mortgage-free smart homes for service members with severe service-connected disabilities & mobility issues
Fallen First Responder Home Program to support the surviving family of law enforcement & firefighters who lose their lives in the line of duty
Gold Star Family Home Program to provide mortgage-free homes to surviving spouses of service members killed in the line of duty who have young children
Besides the 5K Run & Walk, the organization has been hosting numerous events each year since 2002 to support our country's military and our community's first responders.