Flemington Car & Truck Country will once again be sponsoring and take part in Shad Fest, which will take place this year on Saturday April 23 & Sunday April 24 from 11 am to 5:30 pm both days in Lambertville NJ!
This event is a true celebration of our county's rich artistic history and of course the Shad, our local river catch! Flemington Car & Truck Country is proud to sponsor ShadFest 2022 and will hope you will stop by our booth on Church and North Union Streets to meet our team and a variety of vehicles we think you will find very appealing. We will have an emphasis on EV and Hybrid models.
What Is Shad Fest 2022?
The festival has evolved from a local art show into a nationally recognized award-winning event. ShadFest features the area's finest artists and crafters, great food, and family entertainment.
Additionally, the two-day extravaganza also serves as a venue for local non-profit organizations to raise necessary operating funds.
Everything from taco salads to fried Calamari! There will also be the tried and true favorites: hot dogs, fried Oreos, hamburgers, fries, Hawiian BBQ, gyros, and fresh lemonade for the traditionalists!
For your pet's safety in large crowds, please leave your dog, cat, ferret, python, or pet rocks at home.
This year's Shad Fest features the region's finest artists and crafters featuring everything – jewelry, ceramics, furniture, apparel, accessories, home décor, and more! This is a rain or shine event.
New to the year are children's activities, home & garden section, and farmer's market. Local's Lane will feature artists from the Lambertville/New Hope area.
The health and safety of our festival attendees is our top priority.  Individuals who have tested positive or have been deemed presumptively positive with Coronavirus; sought coronavirus testing but have not received results; been informed that they may have been exposed to Coronavirus or have experienced any symptoms of coronavirus should not attend ShadFest. Please stay home!
There is no guarantee that you will not be exposed to Coronavirus by attending this festival. By coming to the festival, you acknowledge and agree that you assume the inherent risks associated with attendance. By attending, you acknowledge that you have read, understood, and agreed to abide by this policy.
Shad Festival Map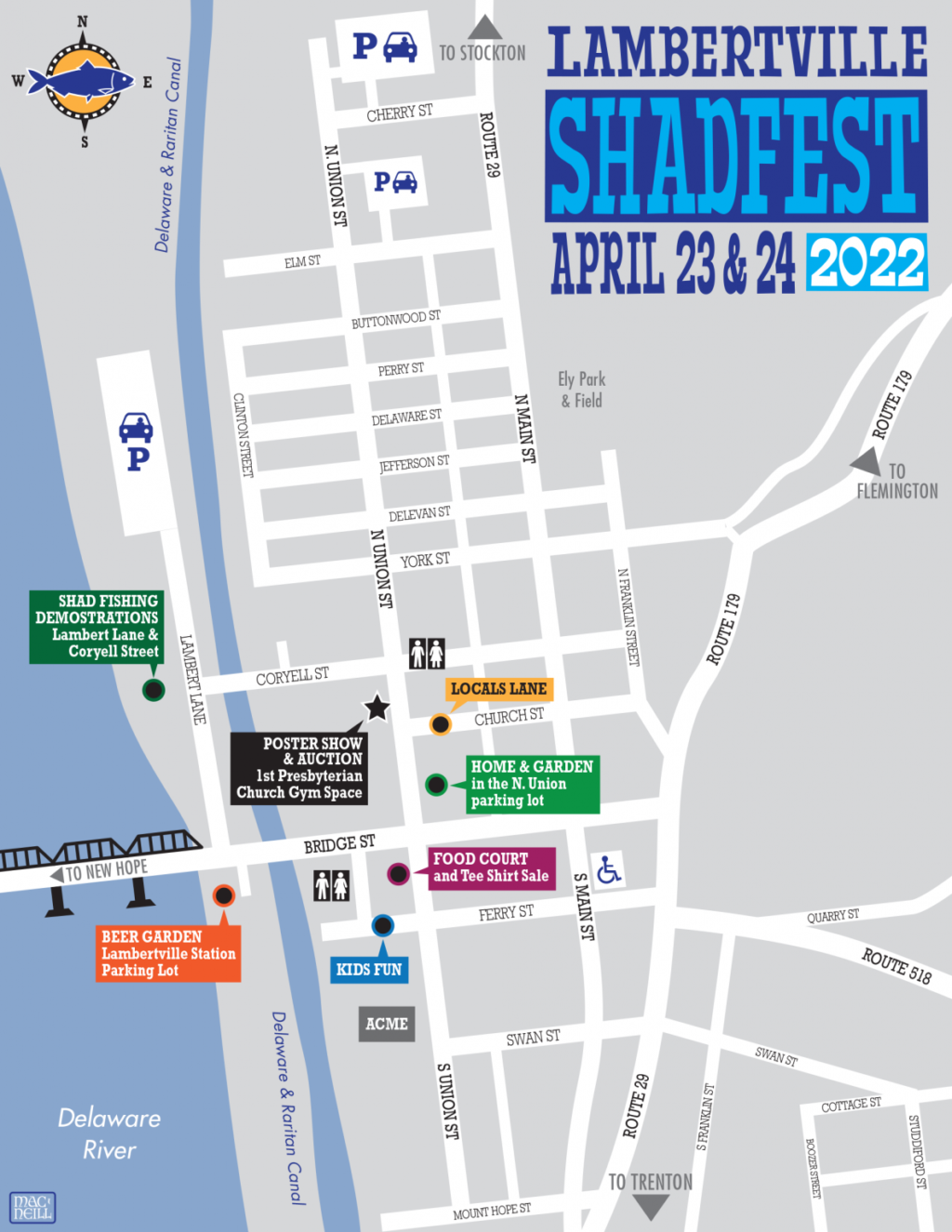 You can learn more about this event by visiting https://www.lambertvillechamber.com/shad-fest/