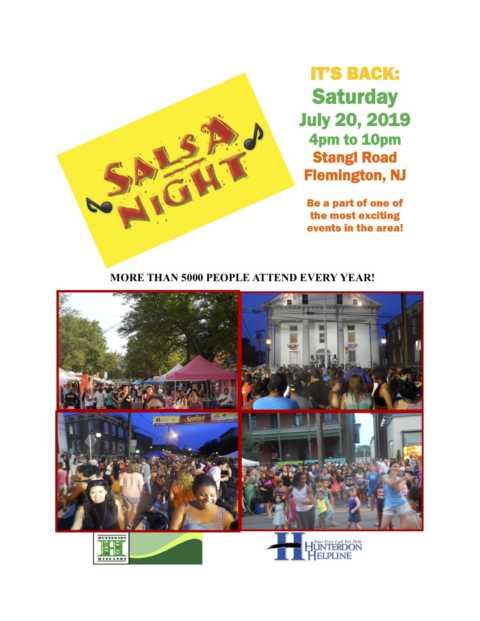 For the 4th year in a row, Flemington Car & Truck Country will be sponsoring the Salsa Night put on by Hunterdon Helpline! It's a fun day of culture and community that'll take place on Saturday July 20 at Stangl Road in our hometown of Flemington.
In the theme of Salsa Night, there will be a fantastic entertainment lineup of musical artists. The acts that are signed up to be in attendance consist of:
Swing Combo, a salsa band who performed last year
Son 7, another salsa band who performed last year
Gabriel Munoz, a Puerto Rican cuatro musician
Cultural Explosion Dance Company, a salsa dance teaching & performing group led by Cristina Piedra
Like last year, food trucks and restaurants will be onsite to offer a variety of appetizing refreshments. There will also be a variety of vendors showing off their wares at this event as well including us!
Last year, our very own brand ambassador Victor Belise from our Flemington Audi VW Porsche location came with a new Audi convertible with all of the bells & whistles. This year, he'll be returning to the Hunterdon Helpline Salsa Night with either an Audi or Porsche vehicle along with some cool swag including bags, bears, coupons & more!
This great event helps support an amazing cause: the Hunterdon Helpline. For almost 50 years, this organization has been offering our community a wide variety of services including:
First Assist: 24-hour hotline to give our community help from specialists & even a licensed clinical social worker
Senior and Disability Services: telephone reassurance, friendly visitors & emergency linkage phones
Literacy Services: helping people learn English to help them with job advancement, speak more comfortably & get their GED, citizenship or advancement in higher education
Hunterdon Hispanos: bringing Hispanic residents in our community together through events like Salsa Night
Community Translation Center: helping residents who have not mastered English translate documents and conversations with employers, doctors & more
Wellness4Success: helping with challenges for healthcare, mental health, suicide prevention & more
WORKconnectivity: aiding residents in need with finding employment in our community