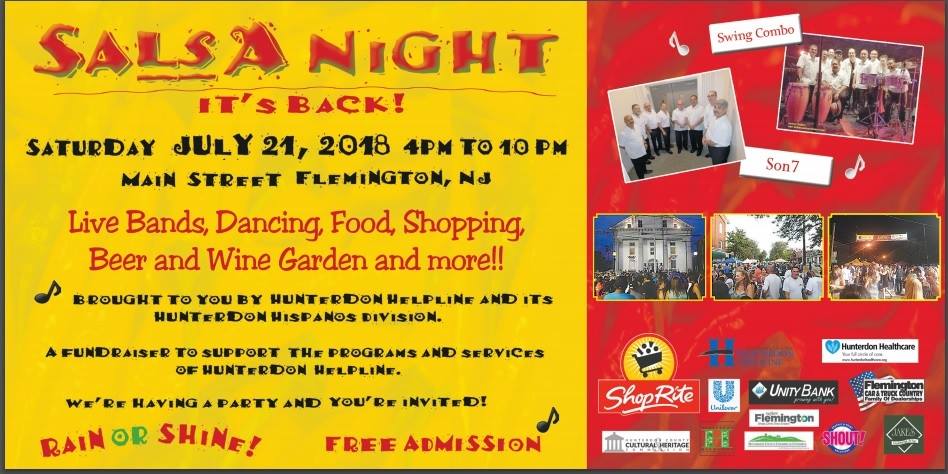 We have been proud to sponsor the Hunterdon Helpline Salsa Night for the past 3 years! And the 2018 edition took place on Saturday July 21st from 4-10 pm on Main Street in Flemington.
On this day, main street opened up to vendors, local businesses and county & town organizations to benefit the Hunterdon Helpline and its Hunterdon Hispanos Division. The helpline has been helping our community for almost 50 years transforming from a teen hotline to a 24-hour helpline answering the needs of at-risk residents to find the answers to their life challenges.
The Hunterdon Hispanos Division was started in 2005 to bring Hispanic residents of Hunterdon County together by providing cultural celebration & inclusion opportunities in the community. And the annual Salsa Night does just that by offering:
Salsa bands (Swing Combo & Son 7 performed this year)
Salsa dancing lessons (provided by Elvis Ruis of the Alma Montuno Dance Studio this year)
Food from all around the world including Latin, Italian, American & Asian cuisine
Beer & Wine Garden
Kids activities like face painting
50/50 raffle
More entertainment, shopping & kids activities
For the Salsa Night, Flemington Car & Truck Country was represented by Victor Belise of Flemington Audi VW Porsche and he brought an Audi convertible to show off the spirit of summer and open-road driving. We also offered a table full of swag at the event and the chance to get to know our team.
Hunterdon Helpline Salsa Night Photos