Flemington Subaru, proud member of the Flemington Car and Truck Country Family of Brands, celebrated the culmination of the 2020/2021 Subaru Share the Love Campaign, an annual initiative which raises money for national and local charitable organizations that aid our community, with a check presentation at Flemington Subaru.
Jonathan Kalafer & Josh Kalafer, Co-Chairmen of Flemington Car & Truck Country, along with Frank DeCraine, General Manager of Flemington Subaru; joined by Michelle Rygiel, District Sales Manager Subaru Distributors Corp, presented a check for $14,573 to Phil Beekman, Senior Vice –President of the Hunterdon Healthcare Foundation (HHF) and Jamie Booth, Registered Nurse at Hunterdon Medical Center's Norman & Denise Guilloud Cardiovascular Center. This check represented the amount contributed by Flemington Subaru after choosing The Hunterdon Healthcare Foundation as their "hometown charity."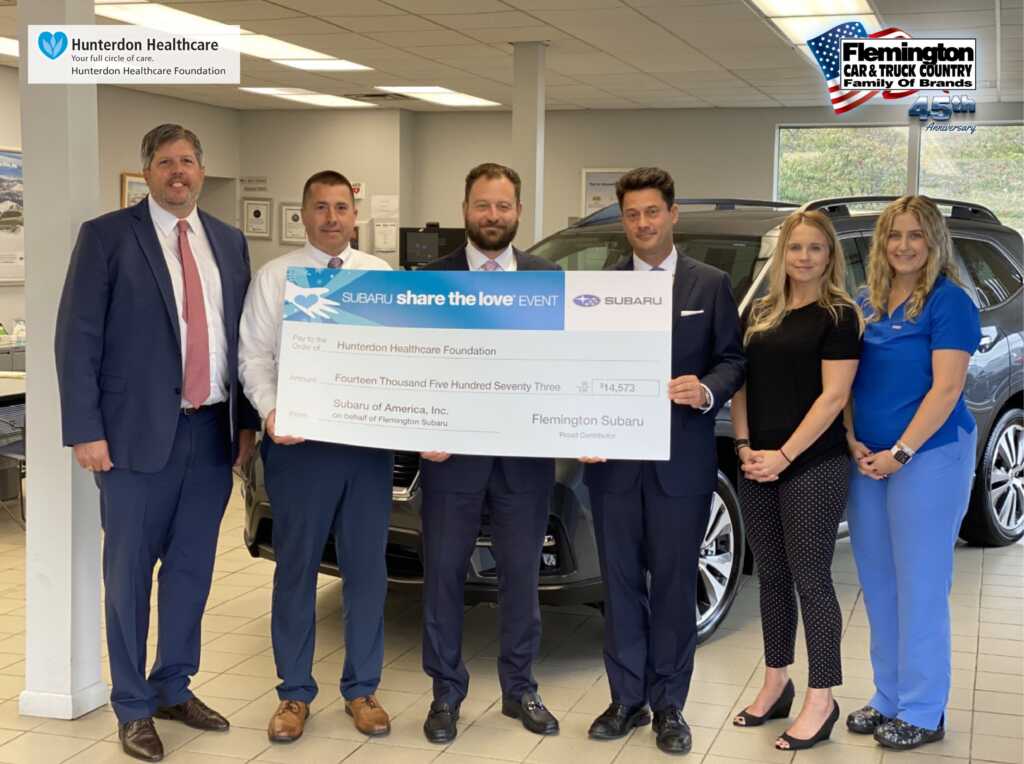 Beginning November 15, 2020 and running through January 2, 2021, customers who purchased a new Subaru selected from a list of organizations to receive a $250 donation from Subaru of America (SOA) in their name. The thirteenth-annual Share the Love program allowed customers the opportunity to make donations to four national charities: the ASPCA©, Make-A-Wish©, Meals on Wheels America© and the National Park Foundation.
Additionally, customers of Flemington Subaru were given the opportunity to choose Flemington Subaru's designated local charity, The Hunterdon Healthcare Foundation, which is the fundraising organization for Hunterdon Medical Center, supports the medical center's mission to provide high quality healthcare for their community. Flemington Subaru raised $7,286.50 from the initiative and matched the donation dollar for dollar.
"We are always happy to support the Hunterdon Healthcare Foundation in any way we can, especially after these difficult times over the last few years," said Jonathan Kalafer. "Flemington Car & Truck Country whole-heartily supports the foundation's mission to provide high quality, cost-effective healthcare for our local community. We very much appreciate the work of the doctors, nurses and EMS personnel of the hospital for putting their lives on the line during these heightened times to help us all."
"Flemington Car & Truck Country is so very proud to give back to our local community," added Josh Kalafer. Subaru's Share The Love initiative shares the mission of our own organization as we always look for opportunities to strengthen our community and build a better life for those less fortunate."
Subaru of America donated more than $26.2 million to national and local charities during its annual "Share The Love" campaign bringing the total donated to over $200 million over the last 13 years.
Flemington Subaru, a proud member of the Flemington Car & Truck Country Family of Brands, upholds a strong commitment to customer satisfaction and community. Conveniently located at 167 Route 31 in Flemington NJ, Flemington Subaru offers for sale a full line of new and certified pre-owned vehicles, as well as exceptional service and quality parts for all your automotive needs.
The Flemington Car and Truck Country Family of Brands, "Family, Independent… Not Corporate," is comprised of 18 manufacturer brands with dealership locations in Flemington, Clinton & Princeton NJ and is now in its 45th year of operation. For further information, call 1-800- Flemington.