Each year, the Flemington Speedway Historical Society (FSHS) plays host to a car show to give our community & traveling car enthusiasts a day of fun. This year, we are proud to once again sponsor the FSHS Car Show as we do annually!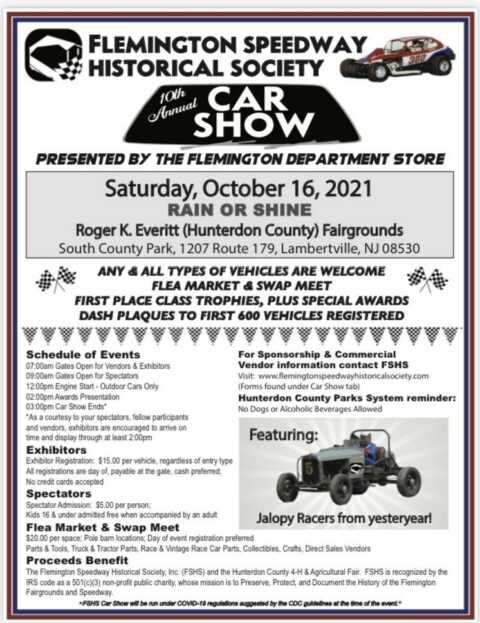 The 10th Annual FSHS Car Show, featuring jalopy racers from yesteryear, will be taking place rain or shine on Saturday October 16 at the Roger K. Everitt (Hunterdon County) Fairgrounds located at South County Park (1207 Route 179) in Lambertville NJ. Here is the schedule of events:
7:00 am: gates open for vendors & exhibitors
9:00 am: gates open for spectators
12:00 pm: engine start – outdoor cars only
2:00 pm: awards presentation
3:00 pm: car show ends
Any and all types of vehicles are welcome, with first place class trophies & special awards to be given out during the awards presentation. Exhibitor registration is $15 per vehicle and all registrations payable at the gate day of, with cash preferred and no credit cards accepted.
Dash plaques will be distributed to the first 600 vehicles registered. As a courtesy to spectators, fellow participants & vendors, exhibitors are encouraged to arrive on time & display through at least 2:00 pm.
Registration of pole barn locations for flea market & swap meet vendors costs $20 per space, with day of event registration being preferred. There will be vendors offering parts & tools, truck & tractor parts, race & vintage race car parts, collectibles, crafts and more.
Admission for spectators is $5 per person and kids ages 16 & under are admitted for free when accompanied by an adult. Proceeds from this event will benefit the FSHS and the Hunterdon County 4-H & Agricultural Fair. No dogs or alcoholic beverages are allowed at the FSHS Car Show.