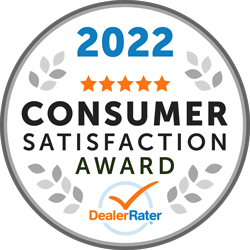 Every one of our dealerships has received this award. Thank you to our customers!
Tremendous experience at Ditschman/Flemington Ford!
Kevin Crowley, my Salesman was incredibly professional and educated me on my purchase without excessive pressure. When I decided on my order,I was pleased to see that the dealer sold this highly specialized vehicle (Raptor) at MSRP where other dealers were charging $5, $10 and $20K OVER sticker.
Once ordered from Ford, Kevin was gracious with all my phone calls trying to determine status of my order. (Ford had excessive delays due to chip shortage).
I would recommend others to this dealer and to Kevin specifically with no qualms whatsoever. Truly a great experience!
– Scott | January 2022
Source: Google.com
I purchased a pre-owned GTI sight unseen from Mike Franks at Flemington Audi. I can honestly say this was the best car buying experience I have ever had, and I've had quite a few. Car was exactly as represented, Mike was professional and courteous throughout the whole transaction, and the delivery was quick and painless. I couldn't be happier with the car and my experience at Flemington Audi.
– Doug | December 2021
Source: Google.com
Joel was phenomenal to work with; in this day and age of information at our fingertips transparency is more important than ever during the car buying experience. Joel kept me informed every step of the way and made sure that I understood absolutely every part of my deal, and made sure that I will be taken care of for many years to come. Even though there are several dealerships closer to me, I will make the drive to do business with this dealership in the future.
– Steve | February 2022
Source: Google.com